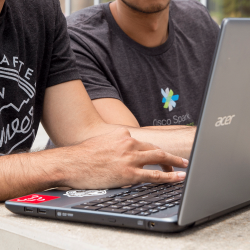 Spring 2021: New CHEM 115 Placement Requirements
Please read the following information carefully, since the requirements for CHEM 115 are significantly different due to remote learning. For the Spring 2021 semester, the Chemistry and Biochemistry department will be using the homework system ALEKS, to create a Preparation Assignment, rather than a placement exam.
More information is now available. Please read carefully below. Please be patient as we adjust.
If you are pursuing a major that requires CHEM 115 in your program, the Department of Chemistry and Biochemistry asks you to prepare and self-assess your prior math and chemistry knowledge using a homework-type assignment before starting the course. Our Preparation Assignment involves a "knowledge check," which is exam-like, and homework problems that include important skills needed for 115. The great benefit of this assignment is that you can review and study, such that your entry into CHEM 115 is not dependent simply on a single, timed "placement exam".  Enrollment at the appropriate level (CHEM 100 vs. 115) is of great benefit to students, leading to more rewarding and successful experiences in their chemistry courses. In particular, the department requires that students complete the Math and Measurement problems to enroll in CHEM 115.
Your CHEM 115 instructor will be sending you information with how to sign up for ALEKS and do the Preparation Assignment. 
Registration & Preparation
Students can register for CHEM 115 before taking the Preparation Assignment. The demand for seats in CHEM 115 is high and the class typically fills by the end of priority registration. Students should plan to register for CHEM 115 even if they have not yet taken or finished the Preparation Assignment. If you are not on the class list or the wait list of the course by the start of the semester, you are not guaranteed a spot in the course even if you complete the Preparation Assignment.
Take the Preparation Assignment as soon as it's available during summer/winter break.
We recommend taking the Preparation Assignment as soon as it's available. If you do want to study before taking the Preparation Assignment, a detailed study guide is available here: Sample Chemistry 115 Placement Exam (PDF) 
It is useful to read a textbook or your old notes while doing the assignment portion of the Preparation Assignment. Any good high school chemistry text or a college-level introductory or preparatory chemistry text (for example the free online book at OpenStax) will have the material needed to study for the Preparation Assignment. You can also use a study guide for the SAT II Chemistry test or the AP Chemistry test.
FAQ